BGE in the Biodiversity Genomics Conference 2023
Well, you cannot say that we have not been telling you this for quite some time!: The Biodiversity Genomics Europe project will have its own full day at the Biodiversity Genomics conference 2023 next Monday 2nd October (10.00-17.00 CEST). With this announcement comes also our invitation to register if you have yet to do so!
BG23 will be an excellent opportunity to showcase the project's goals and gain a great deal of knowledge about everything that is relevant for European biodiversity genomics today, from the policy landscape in which we practitioners operate to applications of DNA sequencing for characterisation and conservation of biodiversity, innovation and opportunities ahead and, of course, an in-depth conversation on how to increase the impact of genomic research to match our stakeholders' goals and, ultimately, get a place at the table of biodiversity restoration and conservation policy.
A short summary of the day is as follows:
Session 1: BGE and the European biodiversity policy landscape
The Biodiversity Genomics Europe (BGE) day starts with a session introducing the biodiversity policy landscape in Europe, the BGE project and details of BGE's barcoding and genome sequencing streams.
FULL SESSION BY SESSION PROGRAMME
Session 2: Applications of genomics for biodiversity characterisation and conservation
The programme then moves on to two linked sessions (before and after lunch) consisting of short contributed talks which focus on (1) using genomes to understand and conserve biodiversity, and (2) using DNA barcoding approaches for biodiversity characterisation and biomonitoring.
These sessions offer a wide variety of case studies ranging from seagrasses to pollinators, frogs to subterranean aquatic invertebrates, butterflies to marine aquaculture.
Session 3: A future of opportunities
The penultimate session of the day focuses on invited talks covering recent innovations for increased utilisation of genomic data for biodiversity characterisation, conservation and biomonitoring. You can see the session speakers below.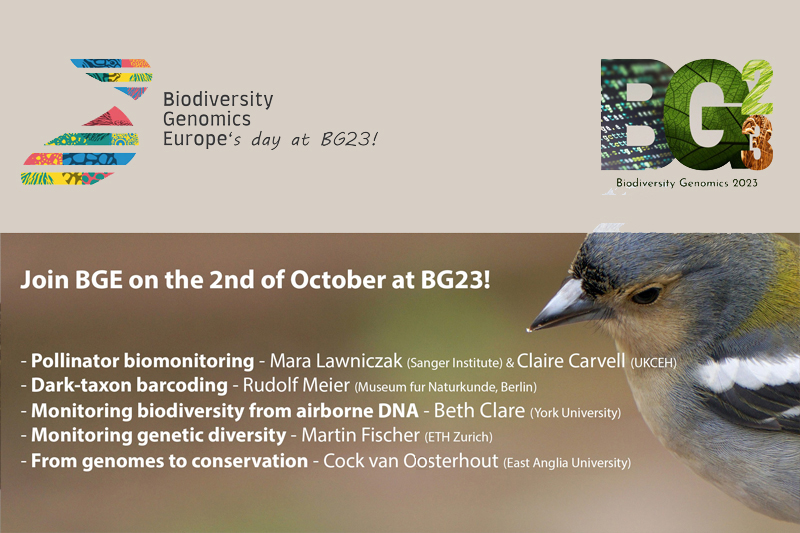 Above: Topics and speakers of session 3 of the day of BGE at BG23
Session 4: Panel: maximising impact
The day will finish with a panel discussion exploring what we need to do to maximise the impact of major biodiversity genomic projects in meeting stakeholder needs. Chaired by Pete Hollingsworth, the panel includes a wide representation of expertise: Magda Bou Dagher Kharrat (European Forest Institute); Tiina Laamanen (Finnish Environment Institute); Charlotte Germain-Aubrey (Secretariat for the Convention on Biological Diversity); Michael Traugott (Sinsoma GmbH and University of Innsbruck); Elena Buzan (University of Primorska); and Pedro Beja (CIBIO Research Center in Biodiversity and Genetic Resources)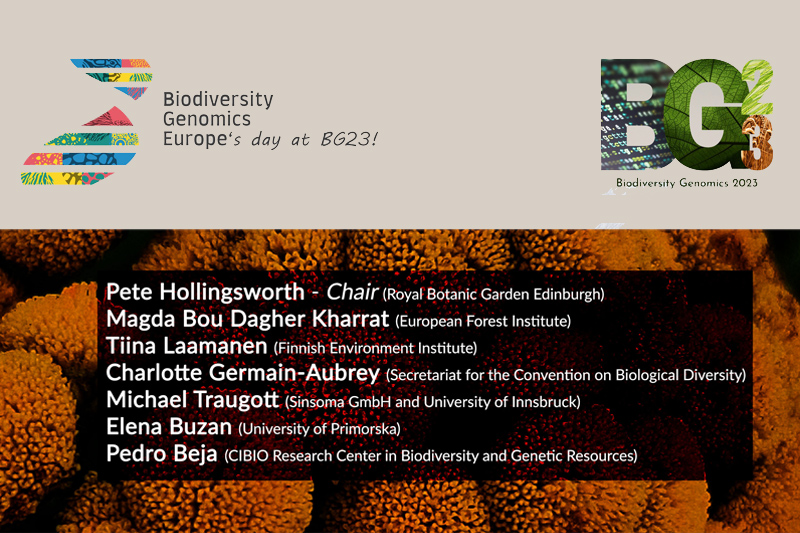 Above: Contributors to the panel of Session 4 of BGE's day at BG23
Remember, next Monday October 2nd from 10:00am to 17:00pm CEST
FULL SESSION BY SESSION PROGRAMME
See you there!