BGE at the Biodiversity Genomics 2023 conference
By Ela Sari (Naturalis Biodiversity Center)
Last October 2, Biodiversity Genomics Europe has its day at BG23, the most important and global event related to the world of biodiversity genomics, attracting and connecting thousands of scientists of all ages from around the world. An entire day of sessions about our project that provided the perfect opportunity to draw attention to BGE's goals and gain a great deal of knowledge on everything relevant to European biodiversity genomics today. The BGE day consisted of a comprehensive programme of five sessions that showcased a variety of topics, including BGE and the European biodiversity policy landscape; the applications of genomics for biodiversity characterisation and conservation; innovation and opportunities ahead; and, more importantly, an in-depth conversation on how to increase the impact of genomic research.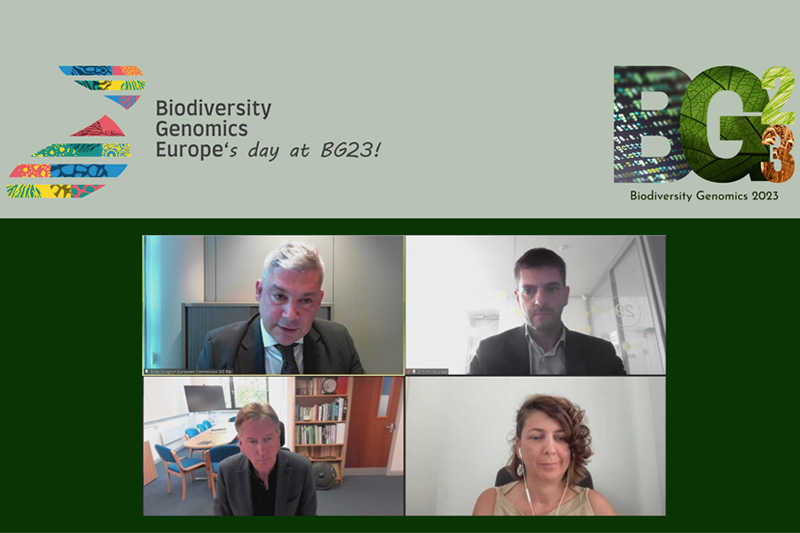 Above: Speakers of session 1 of the day of BGE at BG23 (top left corner: Gilles Doignon, chair of session 1)
Session 1: BGE and the European biodiversity policy landscape
The BGE day started with a session introducing the biodiversity policy landscape in Europe, the BGE project and details of BGE's barcoding and genome sequencing streams. Chair Gilles Doignon (DG Research and Innovation, Eur. Commission) highlighted the fact that the European Commission is thinking of building a new cluster of projects for genomics to promote and facilitate internal efforts, synergies and data sharing within the genomics community. This will help to ensure that we have no duplication. It's not confirmed yet, but it sounds good, doesn't it?
Session 2: Applications of genomics for biodiversity characterisation and conservation
The programme then moved on to two linked sessions (before and after lunch) consisting of short contributed talks which focussed on (1) using genomes to understand and conserve biodiversity, and (2) using DNA-barcoding approaches for biodiversity characterisation and biomonitoring.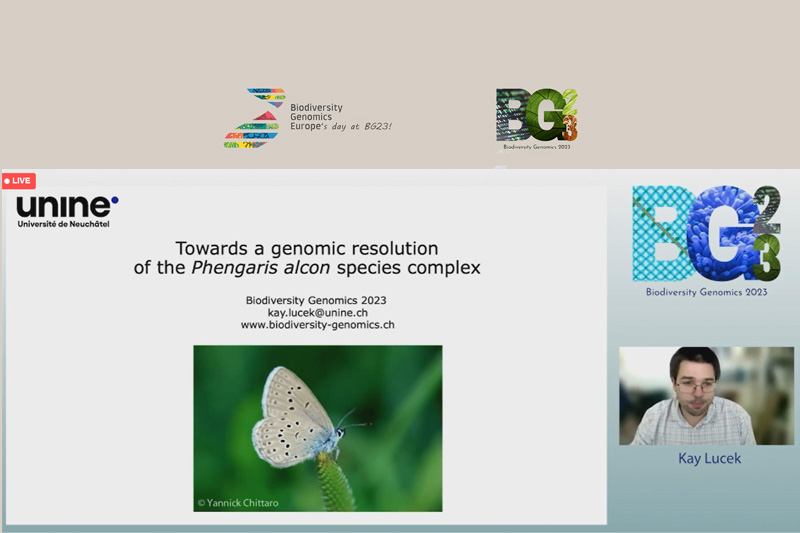 Above: A snapshot of the first talk during session 2 of the day of BGE at BG23, by Kay Lucek
The two linked sessions were chaired by Robert Waterhouse (SIB Swiss Institute of Bioinformatics, BGE) and Mara Lawniczak (Sanger Institute, BGE), and offered a wide variety of case studies ranging from seagrasses to pollinators, frogs to subterranean aquatic invertebrates, and butterflies to marine aquaculture. 
Fact sheets from this session will soon appear on the Knowledge Platform of our website, so stay tuned!
Session 3: A future of opportunities
After a fascinating mosaic of talks on applications of genomics in session 2, we started to look at the future in this third session on innovations and opportunities for increased utilisation of genomic data for biodiversity characterisation and conservation. This penultimate session was chaired by Camila Mazzoni (Leibniz Institute for Zoo and Wildlife Research, BGE) and covered a wide range of topics from researchers that are in the forefront of innovation development for biodiversity genomics.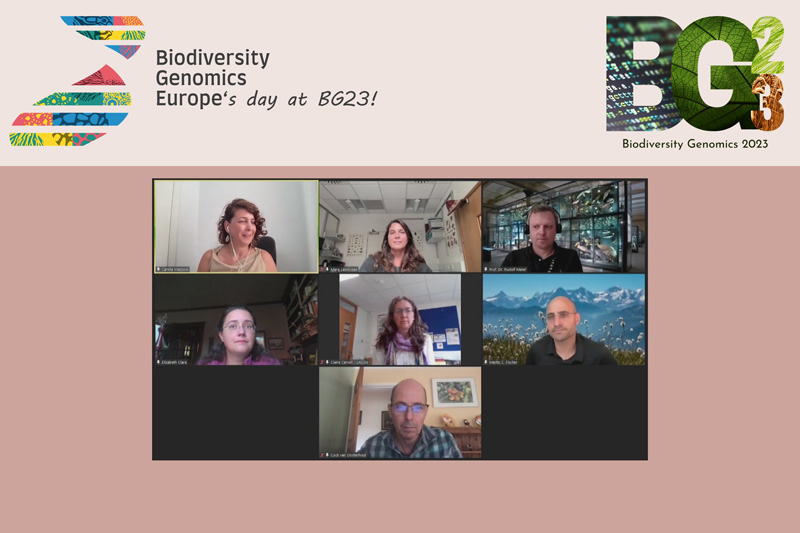 Above: Speakers of session 3 of the day of BGE at BG23 (top left corner: Camila Mazzoni, chair of session 3)
The topics covered 'pollinator biomonitoring', 'dark-taxon barcoding', 'monitoring biodiversity from airborne DNA', 'monitoring genetic diversity' and 'from genomes to conservation'. Several challenges were discussed, ranging from some lack of funding for getting certain devices out there that would be quite useful for biodiversity monitoring, to the fact that working with historic DNA can be a real 'minefield' requiring a lot of testing, adjustments and damage corrections.
This session also covered, for example, the question how genomics can be efficiently used in the short term to guide translocations or reintroductions of species that are endangered or whose populations have shrunk. An important issue, since we are already at the point where we can start doing this. Session 3 left us even more curious about the future of possibilities!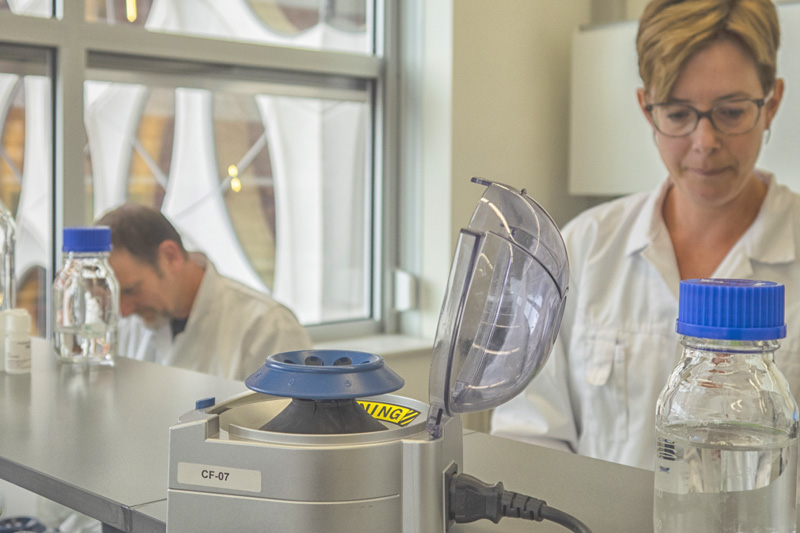 Above: BGE's day at BG23 focused on the future of genomics for characterisation and conservation of biodiversity.
Session 4: Panel: maximising impact
The final session of the day was a crucial discussion exploring what we need to do to maximise the impact of major biodiversity genomic projects in meeting stakeholder needs. 'What are big opportunities / obstacles so that DNA and genomic data are more effectively used for biomonitoring of biodiversity and conservation?' was the question at the center of this panel discussion. Chaired by Pete Hollingsworth (Royal Botanic Garden Edinburgh, BGE), the panel included a wide representation of expertise: Magda Bou Dagher Kharrat (European Forest Institute); Tiina Laamanen (Finnish Environment Institute); Charlotte Germain-Aubrey (Secretariat for the Convention on Biological Diversity); Michael Traugott (Sinsoma GmbH and University of Innsbruck); Elena Buzan (University of Primorska); and Pedro Beja (CIBIO Research Center in Biodiversity and Genetic Resources). 
The conversation covered a number of important topics and advice. The panel highlighted, for example, that stakeholders have a huge knowledge gap on why genomics can be useful and even what it actually is – a gap that needs to be bridged by involving them as early as possible. Likewise, we need to bridge the gap between research and practical application (taking into account the diversity between countries), and we need to open up the world of stakeholders more widely. Indigenous people are the most efficient at conservation, which means we need to bypass governments or policy makers to work with them. Moreover, issues such as the lack of common standards, the combinability of genomic/genetic methods with standard methodology, the importance of species-level identification and the key role science communicators can play in communicating results to end users were also discussed.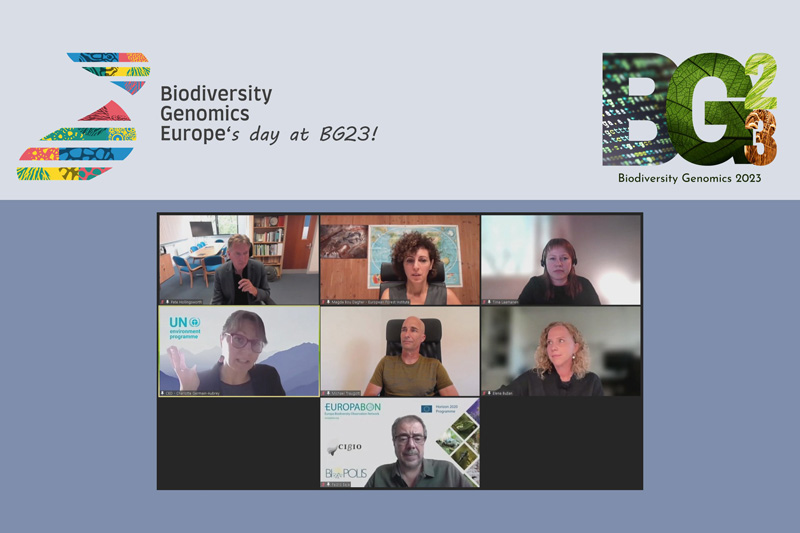 Above: Speakers of session 4 of the day of BGE at BG23 (top left corner: Pete Hollingsworth, chair of the panel)
Key closing remarks of the panel were:
The importance of local knowledge to make science more democratized

The fact that we should build trust between researchers and stakeholders

The involvement of stakeholders in the research process to maximise the impact

The importance of standardized methods
We would like to thank everyone for attending the BGE day during Biodiversity Genomics 2023, a truly successful day of fascinating discussions that would not have been possible without all of our wonderful speakers!
Laboratory image: Jose Alonso (Naturalis)